The concept VUCA is used to describe Volatility, Uncertainty, Complexity and Ambiguity, and in isiZulu Vuka means to wake up. We need to wake up and change our thinking". 
This was one of the key statements by Dr Rudi Kimmie during the recent episode of the IBASA & EPI Webinar Series on how understanding your traits, skills and experience can help you better assist your clients.
What a privilege to have experienced coach Thobeka Poswa joining me as host of this episode, with Dr Rudi Kimmie, CEO of TSIBA Business School and Pinda, Potelwa, an independent ESD consultant and Financial Manager.
Rudi started off by suggesting reflection is needed in these uncertain times, posting two key questions to consider: 
How has Covid-19 changed the socio-economic context (i.e. how has it impacted your life)? 

Are your skills, talents and traits still relevant? 
Focussing on the second question, he said the challenge entrepreneurs (and advisers) face is how we interpret what is happening, how we make assessments and how we adapt our practices to become more attuned with the changes that are happening in the world.

Are your skills, talents and traits still relevant?
Reality is, Rudi said, that the context changed. People are becoming disorientated, bewildered, and confused. This is typically what is referred to as the VUCA world. He shared that, coming from KZN, he also knows the isiZulu word VUKA, which means to "wake up". 
Rudi suggested that we need to wake up to the fact of increased volatility, increased uncertainty, more complexity, and different understandings. That is the new reality. One of the biggest challenges facing us in the world is increased risk, personally and professionally, he said. And the only way to cope with this risk is to change the way we think.

Open mind, open heart
People with an open mind and heart will be open to growth, because their mindset is not risk averse but is open to learning. Learning to change our mental models and paradigms to move from fixed ways to reflect more and try new things. Everything (change) starts with you, Rudi said. 
Dr Steven Covey in his book "7 Habits of Highly Successful People" states that the 1st habit is being proactive. In South Africa, he said, high levels of entitlement have become part of our culture.  Students demand free education; people demand free housing and 17 million people are on grants. It is just not viable for a county with 5 million taxpayers to carry 57 million people.
To change this, you need to become proactive, decisive, upskill, be empathic, collaborate, be competent and be bold to take action, Rudi stressed.
He shared that the most important business concerns entrepreneurs face right now are:
Sustainability – how do we ensure our business and skills endure within the complex time.

Adaptability – SASOL lost significant value in weeks because crude oil dropped, yet Sasol has grown 300% in two weeks again by repurposing their plants to produce sanitiser. Tsiba has adapted by migrating all classes online.

Resilience – we have to maintain resilience to ensure we remain competent, strong, positive moving into a changing environment.
Reflective Practice
A favourite author of Rudi, William Brian Arthur, says that all great discoveries come at the "AHA" moment, often in silence and isolation. Rudi believes that Covid-19 offers such an opportunity to many. Normally we are too busy to be able to properly reflect. We must therefore use this moment now to decide whether we are on the right track and what it is we need to do to achieve some of our goals and objectives.
To illustrate the impact of perspective by using the example of drawing a tree, he says the conventional way is drawing it from the side, but what about looking at it from the top or bottom? Because we think of problems in a conventional way, we come up with conventional solutions, he said. Different perspectives bring different possibilities, he maintained, citing Einstein's definition of insanity as "to do the same things, expecting different outcomes". He implored us to challenge our perceptions.

Complex times require different thinking
Rudi highlighted Uber's repurposing of a vehicle by changing the perception of motor vehicles as an excellent example of how a different perspective can lead to innovation. He shared another example of how Brian Chesky was able to launch Airbnb by leveraging the resources of spare rooms in private homes through changing the way people think about what they have.

Introspection: Optimising Efficiency
Rudi, the teacher that he is, gave some homework. He challenged attendees to think about the habits that are holding us back, and need changing.  The next challenge is to identify the habits we need to acquire. Using his students who always leave their assignments and study till the last moment as example, he said they need to change their habit of procrastination and learn a habit of time management. 
Potential 'Roadblocks' to Navigate
Fear, resistance and doubt are "voices" holding us back, he said. Our challenge is embedded thinking, often driven by conventional reference (it's always been done this way), fear of the unknown, and an attitude that change is too much hard work. We tend to find comfort in what we have been doing, surround ourselves with people who share our way, where we find solidarity. We embed this, but he maintained that we need to face these to transform the embedded thinking.
Rudi said that everyday life gives us 86 400 seconds per day. He questioned: "How do you use your time"?  Vusi Thembekwayo said: "Faith is the ability to see the invisible, believe in the impossible and trust in the unknown". Rudi said we need to have faith in what we are doing if we want to achieve the change we need.
Personal Journey
Pinda shared her personal journey of self-discovery that helped her in finding suited ways to support others, in varying situations. Understanding how her traits, talents, experience and skills helped her to shape her best ways to support her business clients. 
To understand your best way of supporting others you need to address the following, she said:
Traits – these are your features or the qualities of your makeup. By virtue of these being characteristics of individuals, we can appreciate how they differ from person to person and are thus unique by nature.

Talents – can be described as gifts or one's natural ability. Again, these are unique to the individual.

Experience – the sum total of your life's encounters. They are unique to you.

Skills – expert or knowledge in a particular field. These are usually developed over time, again that time varies from person to person….in other words, unique to the individual. 
We can see that these components are most definitely unique to an individual. To Pinda it is therefore a no brainer that anyone working with people, whether business owners or otherwise, takes the time to understand these aspects of themselves. In other words, they embark on a journey of self-discovery to ensure they are best suited to support their clients. 
Remember that your dealings with your client — whether in an advisory, mentorship or any support type of role — will always be underpinned by your relationship with the client. Your client must take comfort in the relationship to such an extent that they trust that your interventions have their best interest at heart – else they will never implement what you achieve with them, she said..
So, in order for you to bring your A-game when establishing and maintaining any working relationship, it is imperative that you know who you are. Knowing yourself, is a product of awareness, consciousness and basically being cognisant of your uniqueness. 

Understanding your traits
There are various diagnostics you can use to understand your characteristics. Luckily for her, she could complete a few of these as part of her development plan while in the corporate sector. She said they are a great investment in yourself and if you are able to do such a diagnostic, she would strongly suggest you do. 
There are some free tools out there as well; it's just a matter of finding them. One is the Insights Discovery (https://insightsbenelux.com/) which was sponsored by one of the banks during her stint with them.
Insights Discovery sums up personality possibilities in a four colour-model that is designed to assist you in your understanding of why you behave the way you do. This helps you identify your dominant colour which in turn is characterised by various mannerisms. The aim of the exercise is to assist you in adapting your style to best suit whatever situation you find yourself in and strengthening your working relationships. This diagnostic also helps you to understand others that you work with, including your clients – a fundamental for formulating your approach to your interactions.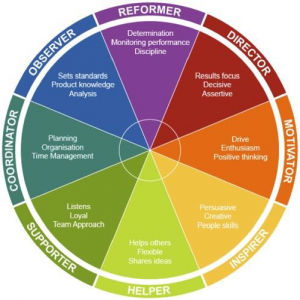 Further, you will find that there is a purple between blue and a red; an orange between red and a yellow etc – this represents the order and strengths of the four colour energies in each individual. The framework also indicates the roles each personality type is most likely to assume, for example you will get helpers, observers, those that direct easier, those we can rely on for inspiration, etc.
Your Own Profile
In her instance, being dominantly blue means that Pinda is more cautious, precise, deliberate, questioning and formal. It helps to know that she will naturally revert to this type of approach so with that knowledge in the back of her mind, she can keep reeling herself in when in a situation that, for example, doesn't allow her lots of time to plan and coordinate, but rather calls for a swift decision. 
Another example would be a situation that calls for some empathy which her dominant blue doesn't naturally tends towards. It means she is constantly conscious that she might be too formal/cool in such situations and of course that might appear uncaring to someone who is dominantly green on the model.
Understanding Your Talents
Pinda suggested that in the quest to identifying your talents, one could: 
Take stock

– What have people thanked you for when you were of service? Being a good motivator? Maybe you simplified a concept for someone and made it easy for them to understand?

SWOT analysis by friends and family

– Ensure you don't seek inputs only from those ones that will tell you what you need to hear. There is a Winston Churchill quote she recently came across that goes: "If two people agree on everything, one of them is unnecessary". Everyone should have an honest and mature person in their circle that they can trust to offer objective criticism – seek such people for this exercise.

Read

– Use relevant resources to help you unearth your talents. We have also seen a recent uptick in webinars and more interactive platforms.

Be open to change

– This will make continuous improvement and transitioning into your best self, seamless. Once you are conscious of your talents, you are likely to  identify areas that you need to work on in order for you to be effective in your role. 
Pinda said that we need to bear in mind that this is a continuous and never-ending process. Some ten years back, her leadership talents were recognised by her then employer and she was tasked with representing them on the committee of a business association they were sponsoring. It was a great privilege, that she now knows she did not honour with the commitment it deserved. But that was ten years ago. She has through the continuous process of self-discovery recognised where she slipped up. 
"I do not continuously badger myself about the situation, but I have identified how to handle such an opportunity should it present itself again", she said. 
Understanding your experiences
Although the definition for experience can be a broad one covering many aspects of one's life, Pinda  focused on her work-related experience and how she could best tap into it in order to deliver the value her clients are looking for. 
In her opinion, in order to be a successful business support practitioner, one needs not have been a successful, full-time business owner but rather to have a reasonable level of awareness to draw what you need from your experiences, allowing you to best support your client. 
Again, if we use her personal journal by way of example: 
Am a BCom graduate = solid foundation.

Worked in insurance industry = instilled time management and a great service culture. 

Was a Private Bank Relationship Manager = got her thinking out of the box and that anything is possible if structured correctly. 

SME Banking – SME specific solutions including skills development and appropriate mentorship. 

Finance Manager in an SME in agriculture – technical; Governance including related structures. 

With a Post Graduate Diploma in Business Administration – practical application knowhow.

She has started four side hustles and failed in all them. Each of those ventures has failed at a stage later than the previous one, meaning she is certainly learning and is able to apply her lessons and experiences. 
Pinda shared that she has over the years found herself to be the go to person for friends, family and acquaintances for a range business advice i.e. funding advice including the structuring funding applications; marketing and promotional campaigns; customer service related matters; staff management challenges; crisis management; and most recently she had some contact her for Covid inspired changes to strategy. By understanding and extracting what she needed to from her occupation related experience, she has been able to assist them. The same can be applied by anyone in their quest to offer support to their clients. 
Understanding Your Skills
Your personal and technical skills, enhanced over time, are equally important in your quest to support your client, she said. Your self-discovery journey should lead to auditing your skill set and striving to continuously improve it. 
Pinda shared a few ways in which you can improve your skills: 
Be open to learning. 

Read – books, blogs. 

Follow industry leaders on social platforms like Linked In.

Sign up for masterclasses. 

Take a short training course – some free resources everywhere. 

We have also seen the rise of webinars and online deliveries like the one we are on now. She says that she enjoyed and learnt so much from the Ibasa webinars over the last year and a bit. She attended various webinars that she thought would improve her skills during lockdown. 

Find ways of applying/practicing your recently acquired skills. Friends, family and scenarios where you volunteer your time and perform services for free are a great method of honing your skills and building a portfolio.
I am sure Pinda's story will assist you in your personal journey of self-discovery ensuring that you are the best version to support your business clients. 
Carel Venter is the producer of the IBASA & EPI Webinar Series.
To view a recording of the full webinar, << CLICK HERE >>.
<< CLICK HERE >> to register for the next episode in the IBASA & EPI Webinar Series.