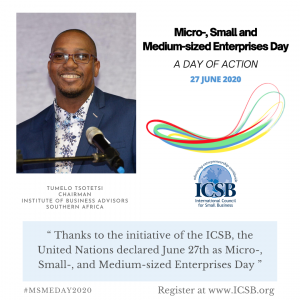 First, we must strive to formulate the guiding principles and metrics that will inform and create just policies for MSMEs.
We then move into our secondary outcome of ensuring that MSMEs have a voice and a share in the long-term discussion around MSMEs.
Not only is policy a necessity; however, MSMEs must have a forum in which they can both connect and provide non-MSME decision-makers with a heightened understanding of MSMEs' inner workings.
Our third call to action incorporates complete collaboration.
This whole process is for the collective power of MSMEs!
<<Click here>> to register for free and receive the ICSB Agenda happening on the 27th June from 9am. There are three sessions available on the Agenda so please feel free to register and engage with other seasoned professionals on an international platform.
IBASA is passionate about the  voice of Business Advisors! 
Come join us tomorrow!