Target business areas where large firms are not scoring high on transformation, while also taking it step-by-step in building the supplier profile.
These were the two most important and practical points of advice for business advisors which Lusapho Njenge, Enterprise and Supplier Development (ESD) Manager at Exxaro Resources, offered during the recent episode of the IBASA & EPI Webinar Series.
The webinar, titled "How to help your clients to become suppliers to large firms and take part in ESD programmes" was delivered as part of the Continuous Professional Development (CPD) programme of the Institute of Business Advisors (IBASA). The discussion focussed on how business advisors may prepare their small business clients so that they meet the requirements of large firms to become suppliers or to enter their ESD programmes.
<< VIEW WEBINAR RECORDING >>
Research transformation needs
Njenge explained that some business areas are well covered in meeting transformation targets, such as services in catering, maintenance and events, but that many large firms are battling to introduce new Black-owned suppliers in other business areas. 
Business advisors should identify these areas by researching the BEE performance of targeted firms. They may, for instance, identify the business areas a firm is seeking transformation in and match these areas with their clients who may be suitable to become suppliers in those areas.
As advisor to potential suppliers, you can of course pick up the phone and contact the ESD or procurement managers of targeted firms to ask in which areas they are looking for more transformation, but you may also study published reports, such as the Empowerdex annual BEE report, which is available on their website.
The important point of advice is that business advisors may improve their service to their small, Black-owned clients by studying potential ESD buyers and matching the buyer needs with the clients they serve.
And Njenge takes it a step further with his advice. "You need to understand the corporate ethos," he says. "If their emphasis is purely on meeting targets, I would approach them from a compliance angle, while if their emphasis is on transformation, I would approach them from a BEE and ESD (impact) angle."
When identifying potential business areas to target in a specific firm, business advisors may also aim to determine what motivates the firm in their ESD programmes. Are they focussed on transformation and empowering new suppliers, or are they merely chasing the compliance numbers? Knowing their priorities may help in selecting the best small business clients to introduce to the large firm and will also help in preparing the small business to meet the requirements the large firm will have for entering their ESD programme or becoming a supplier.
Preparing new suppliers
Also on the webinar was Hleku Maluleke, owner of Flashing Lites Photography, who is a participant in the Exxaro Resources ESD programme. He shared his experience of trying to build a photography and events business, but struggling to expand since they did not have access to the required resources and equipment.
Maluleke realised that by showing that they could attract ESD support if they can show that they are organised through the systems and processes they follow. When entering the ESD programmes they were able to buy the needed equipment so that they could quote for bigger jobs, not only for Exxaro but also for other clients.
Business advisors are in a very good position to help clients to prepare so that they meet the requirements for entering the supply chain of larger firms, but this is not just a once-off introduction. 
"You need to build relationships based on shared value," says Njenge. "It's not really about introducing a company to get a contract. You need to really maintain and nurture this relationship, trying to embed your beneficiary into that corporate supply chain so that they can get more business over time."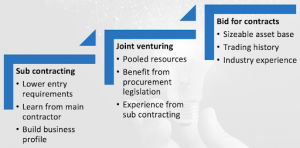 Such an approach can be based on viewing supplier growth as a staircase, where you start at the bottom step. First, you focus on subcontracting to existing suppliers, who may have transformation targets of their own. This allows for learning and building the business profile before aiming for larger contracts.
The second step is to enter joint ventures, where you may get access to the needed resources, which you may have otherwise not been able to harness on your own. 
And the third step is to bid for contracts independently. In many industries you will need to have built up a sizable asset-base to bid for contracts and you will have to be able to show your industry experience and trading history. 
When your small business client takes the steps from first subcontracting and then forming joint ventures, they will grow over time into a position where they meet the procurement requirements for independent contracts. This is not a quick process, but if you build relationships over time, it is very achievable.
"Think long term," advises Njenge. "It's not only about understanding where the targeted corporate is going in terms of their strategies and aligning the small business with that company's trajectory, but also demonstrating success over time (by taking it step-by-step)."
Business advisors are well placed to facilitate the process for small suppliers to grow, says Njenge. "Success breeds success. When someone (in the corporate) can see that you have been able to successfully support businesses and bring them into (their) supply chain, they will sit up and see they can partner with this business advisor to transform their supply chain."
To join the next CPD webinar, you can

<< REGISTER HERE >>.

Christoff Oosthuysen is the webinar host and
Founding CEO of the Entrepreneurial Planning Institute