"Growth is never easy," said Prof Dzansi Yao Dzansi, Head of the Department of Business Support Studies and Director of the Centre for Enterprise & Entrepreneurship Studies at the Central University of Technology.
He said that research indicates that only 1% of enterprises internationally will reach the multimillion-dollar stage and only 0.036% will become billion-dollar business. But this does not imply that there are many businesses who are well suited for adopting a growth approach to business success.
In the recent episode of the IBASA & EPI Webinar Series titled "Advising your clients on a growth-oriented approach to improving their businesses", Prof shared his perspective on how business advisers can assist their clients in tackling the growth challenge. Christoff Oosthuysen from the Entrepreneurial Planning Institute hosted the event, along with IBASA MD Mpho Mofikoe, whom also shared key IBASA member updates.
The nature of business growth
Prof Dzansi started off by quoting Keith McFarland from his book The Breakthrough Company. "There has always been lots of books out there on how to run a big company, but I couldn't find one about how to maintain fast-growth over the long-term. So, I studied the companies who had done it to learn their lessons," he said.
Prof Dzansi shared his perspective on some of the lessons McFarland learned from this study on creating a growth strategy for a business and how to best assist your clients in pursuing it.
He stressed that in order to successfully pursue growth, it is important that clients understand what "business growth" is.
He shared a few perspectives:
"A stage where the business reaches point for expansion and seeks additional options to generate more profit" (Attract Capital, 2021).
"expanding business e.g., by growth in revenue, sales, company value, profits, number of employees, number of customers (www.act.com/en-uk/business-growth. 2021).
In today's competitive business environment for survival, means consolidate or grow.
Consolidation means remaining as is; growing means increased turnover, profit, customer base, geographical scope, etc.
He said that business growth important for a small business in order to cement market position large enough to generate revenue to cover costs and begin to make a profit. Growth, he said, should increase profitability and help the business build liquidity to protect itself against future risks.
In order to effectively assist clients, business advisers should also understand what the main business growth drivers are, said Prof Dennis. He listed four key drivers…
Motivation of entrepreneurs and their ability to drive growth. He stresses that everything else is subject to this driver.
Following 1, an intentional strategy that prioritizes growth, is needed
From the strategy, ensure the proper mapping of processes and identification of infrastructure required to facilitate the planned growth at planned speed.
Lastly, do the forecasts to see the expected cash flow impact and secure enough funding to make the above possible. Growth is often stifled by underestimating the funding needed.
Letting clients understand growth implications
Prof Dzansi re-iterated that, in order for business advisers to effectively assist their clients in pursuing growth options, it is imperative that they ensure the clients understands the implications of all the options.  He said that while business growth could signal success, growth could also be disruptive due to pressure on your staff, resources, and finances. Therefore, before pursuing business growth, ask the critical question: "Should I grow my business?" he asked.
To answer this question, consider the pros and cons of growth below…
The possible pros of business growth include:
Competitive advantage derived from the Economies of scale
Creates new opportunities
Brings in more customers
Generate greater profits
The possible cons of business growth include:
Increased capital requirements
Shortage of cash and the need to borrow money to meet expansion costs
Compromised quality
Loss of control through delegated management duties
Finding new staff
Staff problems such as increased turnover, low morale and a drop in productivity
Helping clients assess and select growth options and strategies
While, according to Prof Dennis, there are many ways to classify growth options, he chose to explore the organic versus rapid growth dichotomy to create a useful framework for business advisers within the time available.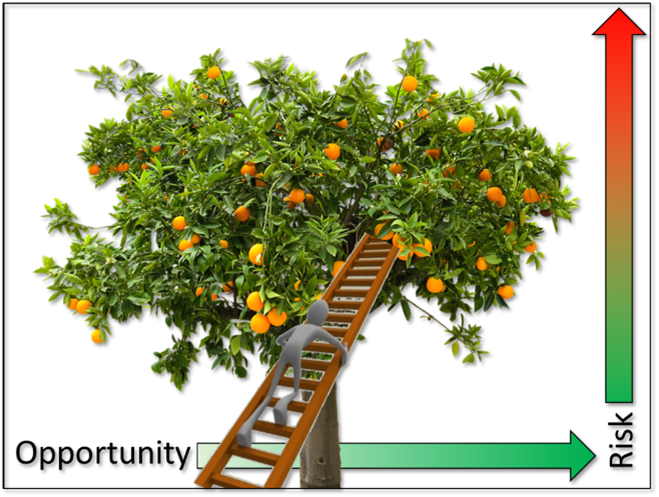 When looking at organic growth, it is important to first understand the nature of organic growth by looking at its characteristics, he says. Organic growth takes longer, but tends to be safer because you grow by doing more of what you are already good at. It also provides more time to develop the capabilities to manage expansion.
There are several paths to achieving organic growth. Prof Dzansi said he likes the ladder approach (LA). Thinking of a normal ladder standing against a fruit tree, this approach begins from the lower level to the uppermost (low risk to high risk), where the results from the least risk, in other words low risk, low return strategy, could be ideal for small businesses. Each new level of the step ladder represents more opportunities for growth, but equally more risk.
Prof Dzansi shared some organic growth strategies to be considered. Each one with its own possibilities and associated risks.
Market Penetration. This is considered the least risky growth strategy, achieved simply by selling more of your current product to current customers. As illustrated above, this will also have the least return.
Market Development entails selling more of your current product to new markets. This medium risk strategy might require added marketing, expanded distribution and possibly expansion of production capacity, but could render good returns by sticking to your core business.
Alternative Channels. Pursuing customers in a different way such as adding an online store (eCommerce) or via additional wholesaler, retailer or agent could also open up new markets for current products, but with a multiplier effect. Added to the risks of point 2, discounts and commissions could reduce margins.
Product Development. Developing new products to sell to mostly existing customers. This strategy would leverage the trust relationship already existing with current customers, but add the potential high cost and time to market of developing new products.
New Products for New Customers. Create new products for new customers (new markets). Though this can bring good growth, this is by far the riskiest strategy.
Rapid growth has a totally different nature, prof. says. Rapid growth occurs within a short time, often in response to an unexpected opportunity. It offers high returns, but involves high risk, including (to list a few) potential cashflow shortfalls, operational inefficiencies, customer service issues and outgrowing the current premises.
Prof Dzansi shares two main strategies through which rapid growth can be achieved through: Integration or Diversification
Rapid growth by integration, has mainly to do with exploiting value chain opportunities. He mentions three scenarios:
Horizontal. Buying a competing business or businesses. While this strategy has the benefit off adding customers whom already have an established trust relationship with the business and its products, the added benefit here is that it also eliminates competitors. Often the risks involved with losing the trust relationship when ownership is changed or branding is integrated, is underestimated. This strategy requires extensive CRM before and after the transaction.
Backward. Buying a supplier to control supply chain. This strategy can help to "develop" new products faster and potentially more cheaply. This strategy also means that you might become the supplier to your direct competitors. Sometimes an industry collaborative approach could make this work, but need to be careful of market and price control. Ideally, the other customers of the supplier business operate in different geographical areas.
Forward. Buying component companies that are part of the distribution chain.
Rapid growth by diversification, he says, was very popular in the 1950s and 1960s, but far less used today. While growing the company by buying another company that is completely unrelated to the current business could introduce additional revenue, products, and markets, companies now tend to stick to what they know and invest in related businesses. Investment in tech companies, as part of future-proofing, might be the field where most diversification takes place today. This is however normally a capital-intensive development strategy requiring ample cash reserves.
Prof Dzansi concluded with a few remarks and practical suggestions. He said;
Growth is never pursued in a vacuum. It is dependent on the market appetite, capacity, and competition. Good market research is thus always a requirement.
Learn from the market research and change course in response to market feedback.
Be careful, taking too long to implement a strategy can result in being overtaken by the market change (urgent need/want/fashion might not exist anymore).
Develop customer-centricity. Stay focussed on customer needs and pains, while understanding their preferred channels and relationship expectations.
Use social media to expand your customer base, leveraging the viral promotion capacity of loyal customers. Beware of the risk involved in this strategy as well.
Invest time to build your networks.
Use event hosting to get to know your customers and build relationships, even if you are only a small business.
Use social responsibility (giving back to the community) to build brand awareness in the local community to attract business.
Measure what works and refine your approach regularly.
During an active discussion with attendees on various aspect and challenges business advisers experience in trying to assist their clients to adopt a growth-orientated business mindset, Prof Dzansi concluded that the adviser can only expose their client to possible approaches and solutions while making them aware of what the implications of each possible scenario might be for their business.
In the end, the entrepreneur is the risk-taker. Their mindset, including appetite for risk and ability to manage risk, will, in the end, determine which growth opportunities can be pursued.
The positive feedback from attendees proves that this practical experience delivered great value in the webinar. For more on the live discussion during the Q&A section, watch especially the 2nd part of the video.
Carel Venter is the Producer of the IBASA & EPI Webinar Series and Partner at the Entrepreneurial Planning Institute (EPI).
Watch the webinar replay << here >>.
Download the slides used by Prof Dzansi << here >>.
Register for the next webinar scheduled for 8 April 2021, titled "Implications of the national budget for supporting small firms" <<here>>.