I don't know about you, but Covid hit my SME clients and myself extremely hard. Supporting them constructively is tough when environmental circumstances are so overwhelming out of their control, leaving them despondent, depressed, some even aggressive.
"Understanding your clients (and yourself) and being aware of the difference between their emotional state and personality traits when engaging them, will greatly improve your ability to effectively support them". These wise words were shared by out expert panellist, Lucille Greef, a Chartered Organisation Development practitioner and partner at Aephoria during the 12th November CPD webinar.
In this webinar titled "Offering effective support by understanding the traits and preferences of small business owners", Lucille also aptly illustrated this principle during a roleplay session with Thobeka Poswa, EPI partner and owner of TLP Services.
<< VIEW THE EVENT RECORDING HERE >>
Lucille said that she started her professional career as a practitioner and consultant, always striving to find ways to make it easier to figure out the human condition and business culture. That however takes time and she was always looking for ways to fast-track that process.
Her quest to understand people clearly started early. Lucille shared that, as a child, she was always reading Mr Men and Little Miss books – publications reflecting personality traits in a fun way. She still uses them as reference in explaining traits till today.
Understanding the difference between Traits and (the emotional) State of someone in a given situation, is extremely important and empowering, Lucille said. The image on the right provides a picture of the difference and some characteristics of each.
Important to note is that emotion is temporary and can be changed. Traits on the other hand reflects personality and character and is constant over time. That is why it takes time to really get to know people through observing them, she said.
If, however, you are able to identify the traits of your client and yourself, it will greatly assist in your ability as adviser to help to solve situations and remove a roadblock in your conversation, Lucille maintained.
She said there is a long list of personality traits (see the image), often causing practitioners to focus on one or two, losing the bigger picture. This is where profiling tools and frameworks are useful, as it helps to cluster some traits and assist in making sense of people's personalities and how to support them.
A great example and Lucille's personal favourite, the Enneagram, group all the personality traits into nine personality clusters. This approach assists the adviser with a more integrated approach to profiling their clients, than just looking at individual traits, she said.
Lucille however stressed that there is no winning formula for dealing with clients within the context of their situation, personality, and emotional state. Also noting the importance of the advisers being aware of how they "show up" at the engagements themselves.
She shared six great guidelines to assist:
It is important to understand that to enable business improvement, you need to work with who the client is.
Don't take their response and actions personally and get reactive. They are not doing it to you. They have their personality, and even frustrations, long before you arrived.
It is very important to affirm them and their experience as normal and flow with that, rather than fighting against it.
Ask yourself. Who do I need to be for the client? How do I need to communicate for them to be able to hear me?
Warning! Be aware also of how much you do adapt to "meet" them. There needs to be a limit ensuring you do not become complicit in their state and compromise the quality of your support.
Get people in a rational frame to get better results. After starting with empathetic engagement, it is important to ask for information that will require giving facts and lead them to analytical thinking.
THE DO's AND DON'Ts
To illustrate different personality types, their typical behaviour and the do's and don'ts in supporting them, Lucille shortly discussed four profiles.
Over-optimistic clients
These clients are often very unrealistic about the business environment and because of their positivity ignore business realities. They see every idea as a business opportunity.
In dealing with them, be careful to "over-correct" them by just looking at doom and gloom. It is important to find a balance. Use yes-and (not yes-but) language to ensure they do not feel you are just critical about everything. Scenario planning, where your "force" them to look at the upside, downside, and likely scenario realistically, will help steer them to facing and engaging around reality.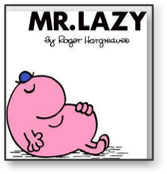 Passive, conflict adverse clients
Be aware, they agree and say yes to everything, but almost never do what they "promised". When feeling guilty or under pressure, they will start to ignore and avoid you.
To get them to engage, do not get frustrated, pushy, and aggressive. They often grew up in a conflict environment and withdrawing is part of their coping mechanism. Rather slow down the process (need for immediate action), ask questions, and ensure they experience that you are listening. Ask about their ideas and concerns, but when you experience stubbornness, ask what is bothering them. When they do not perform agreed actions, ask what is holding them back. No judgement. Just support.
Aggressive clients
For them, you become the cause of all their problems, they don't listen, but tends to directly challenge your advice. Everything becomes conflict and war to them.
It is important to see the marshmallow inside. The aggressive behaviour is often a façade. Don't become a pushover (zebra) – that will be eaten by the lion. Don't get in battle by responding aggressively either. Show and tell you are on their side, but be strong and firm about your inputs, while acknowledging theirs. Remain supportive.
Doubting and cautious
Even after requesting your support, they might block you at the first meeting, as though not sure why they asked you for advice, doubting themselves and you. They often have many advisers, is slow in making decisions and you may experience that for every step forward, there are two going back.
Don't tell them to stop worrying. It will just make them more concerned. Don't push them for quick decisions, block their questions or over-promise. Share that you are worried too, while highlighting alternative risk mitigation strategies. It is important to let them express their ideas. Be patient, steering the discussion towards decisions. Be the trustworthy authority and partner.
As I said earlier, 2020 has pushed business owners to their limits. A poll conducted during the webinar showed that most attendees are struggling to work with aggressive clients. Lucille confirmed that people often act more aggressive because of Covid-related stress and challenges, even though this might just be their state and not a reflection of personality. Stressing the importance of understanding your own challenges in dealing with different scenarios, she admits that she personally finds over-optimistic people most challenging, as they struggle to share real information.
ADVISING A LITTLE MISS CAREFUL (ROLEPLAY)
Moving from talking to showing how, Lucille did a roleplay with Thobeka Poswa (regular webinar co-host) as a typical "doubting and reluctant" client. This was extremely insightful and worth watching <here>.
In this scenario, Thobeka's character contacted Lucille for advice on her training business in the social enterprise space. Starting off, the character showed low energy and mostly replied that things were "ok". Acknowledging her low energy, Lucille kept on prodding for information about business.
Even though the character's response was lacklustre and non-committal at first, Lucille kept on bringing her back to why she contacted her. To ease the situation, she suggested that they just chat, without pressure. If that does not work, its ok and they just part ways.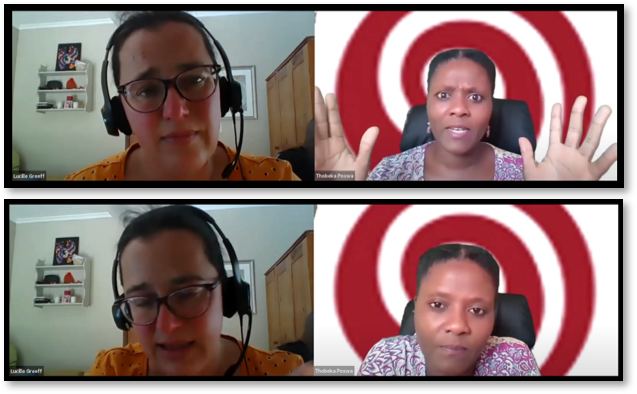 Through her disarming approach in this role play, she triggered an emotional response from the character, sharing all her frustrations. Lucille then acknowledged the frustration experienced by the character (confirming she is being heard), but shifted the discussion to cash flow – a real business challenge.
Steering the character to focus, she asked feedback on cash flow numbers. Through this approach, the character was "guided" to focus on facts and not emotion, by needing to provide a breakdown of costs and monetise the cash flow impact. Once the bottom-line was on the table, the discussion focussed on solutions and opportunities, like new things learned during Lockdown. The character listed her new skills gained during Covid. Once she recognised her own adaptability, the tone of the discussion changed. Lucille methodically then started to talk through the business elements (like marketing).
This was an excellent illustration of how to get a client back in the conversation when they are not in the right mental space.
Reflecting on how it feels to be in client shoes while role playing the character, Thobeka shared that she felt very vulnerable, finding it difficult to move out of an almost embarrassing position. This must be a big wake-up call for us as advisers to understand how some of our clients, especially those with a Little Miss Doubtful personality might enter into a consulting relationship. It is clearly important for the adviser to identify an opportunity to affirm these clients and also engage them on alternative dimensions and scenarios in order to get them to the point of exploring solutions.
ATTENDEES GETTING INVOLVED
A lively response followed the webinar roleplay. Clearly the demonstration of a non-threatening environment impacted on attendees, with the many attendees willing to come into the room and ask their questions live. Feedback on some of the most pertinent discussions points are:
Lucille acknowledged that client engagements sometimes do not work out. She advised that if you are not getting the client to advance, rather withdraw before they "fire" you. She stressed the need for a connection between adviser and client. If you cannot establish that, withdraw. Lucille warned however, to distinguish between a competency mismatch and personality mismatch. As advisers, she believes, we need to learn to work with all kinds of personalities. A good adviser needs can support all personalities and they all need support. At the same time, she stressed that we should be honest about our own competencies and recognise when we fall short.
Lucille advocated for supervision so that you can talk to someone else about the clients you struggle with. A Community of Practice could also provide a safe space to talk. It is the responsibility of each adviser to do Contiguous Professional Development. She advised that practitioners, in addition to attending webinars like this, also seek training, peer groups and mentors for themselves.
Advisors who are not familiar with profiling may start by looking at various tools and find one you are most comfortable with. Research those for more detail, like the interface, language options, etc. to find one that will work best for you in serving your clients. The spinoff is that in researching various tools (and testing them), you also learn a lot about yourself.
TAKE AWAY
I found the panel sharing their personal take-away from the webinar interesting. Even though all linked, the observations related very much to their own personal contexts.
Thobeka confirmed the need to listen and go with the flow of a conversation to where the client is taking you. She stressed: Be loving. Be kind. Don't be nice.
IBASA MD, Mpho Mofikoe, who attended the webinar, confirmed the importance of listening, by observing both verbal and body language cues. She also warned that it is easy to be a victim. To move forward, it is thus important to honestly assess your own role in getting into the difficult position you are in.
Lucille, the ever-present coach, confirmed the level of caring she noticed webinar attendees showed for their clients. She stressed that 2020 has been hard. "The highest mental health problems ever are being experienced. Clients are in more stress and worse shape than ever. Be kind to yourself," she closed.
As this was a coaching topic, active listening was clearly demonstrated as a key skill needed by advisers. My personal observation is also that tuning into client emotions might come more natural for women (than men – like myself).
The bottom line? If I can't connect with my client, I cannot take them forward in their business.
The new IBASA MD, Mpho Mofikoe, shared some challenges and plans from IBASA during the webinar hosted by Christoff Oosthuysen of the Entrepreneurial Planning Institute.
Carel Venter is a partner in the Entrepreneurial Planning Institute (EPI) and producer of the IBASA & EPI Webinar Series.
Watch the webinar replay << here >>.